Okay, so
it's all over but the Democratic response, which is being delivered by new Virginia governor Tim Kaine in such an unenthusiastic way - I fear he may actually
suck the charisma out of me
- that I almost forget that I agree with a lot of what he says. The thing about equipping our troops with sufficient armor and intelligence? Yo. If he starts talking about gay rights, though, I might have to start paying attention, 'cause I know he's not a fan.
As for the President's address, though, I can't say there was anything spectacular about it. It was pretty much as I expected - about 25 minutes, stretched out to about 50 by applause, during which the President had a free rostrum to say anything he wanted without anyone checking up on him. Oh, except
Think Progress
; they live-blogged it with footnotes and everything.
Things in the SOTU that made me almost drop my beer:
9:13
- When did the isolationists and protectionists start to gain prominence? Have I been missing something?
9:14
-
"Democracies ... respect the rights of their citizens and their neighbors."
Um, yes. Yes, they do. I understand it's catching on.
9:25
- I know he didn't just give the ol' grin-and-wink to Dan Clay's family. The man's sister is up there with tears in her eyes, and our president is all, "That one's for you, cutie."
9:28
- We're holding up
Saudi Arabia
as a bastion of burgeoning democracy?
9:39
- Aaaand of course we want to make the tax cuts permanent. And cut the deficit in half by 2009. Has he
seen
the deficit? Has he
heard
of it?
9:57
- Laura, I love you like the sun loves the flower, for serious I do. From now on, when anyone wants to put you in pastels, you tell them no. Saturated colors make you look
fierce.
And now preliminary numbers on today's well-intentioned but poorly-thought-out
drinking-game-esque pledge
(official numbers on applause and standing ovations are still pending):
Terrorists:
9
Iran:
4
Hamas:
1 (x $5)
Free elections in Palestine:
1 (x $5)
nucular:
3
freedom:
17 (holy shit)
terrorist surveillance:
2
protect:
6
security:
7
Social Security:
3 (x $5)
bipartisan:
2
inappropriate smiling:
5
Osama bin Laden:
2 (x $10)
Early numbers find a cool (and conveniently round) $100 going to the
Wounded Warrior Project.
Additional money will be added as soon as I have official numbers on pauses for applause (unofficially numbering 58, down 8 from 2005) and standing ovations. As a reminder, we're giving 25 cents for every pause for applause and 50 cents for every standing O, with a full buck going to that Democratic ovation for the failure of Bush's Social Security plan. Why? Because it's my money, and the bitch in me was cheering.
Update:
The final count is in, the numbers are as confirmed as they're gonna get, and here's what they are: 65 total pauses for applause, 43 standing ovations (for a total of 24 minutes that observers were standing up when they could have been letting the man talk and get it over with). Of those standing O's, I counted eight that were Repub-only, and one that was Dem-only (the aforementioned Social Security snub). That's another $27.50, bringing our grand total to $127.50. That's enough to buy one backpack full of toiletries and personal items for a soldier who got wounded and shipped home in his uniform, with $28 left over to start on the next one. We can thank Bush and his speechwriters for being so damned repetitive.
One final thing that I somehow managed to miss last night: Did he really say
"creating human-animal hybrids"?
Is this our main biotech concern right now? When we're done in Iraq, are we immediately turning our attention to the armies of Squid-Men threatening our borders?
And, um, if we
are
experimenting with hybrids, can someone clone me up one of these?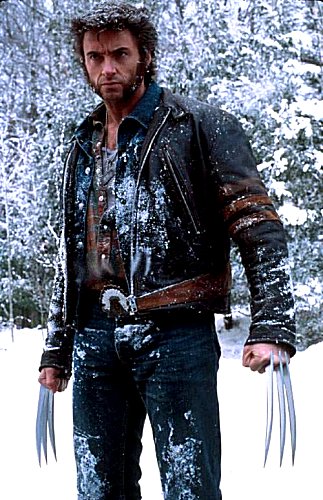 Mmmm.
Needs
to call me.